Verbos Españoles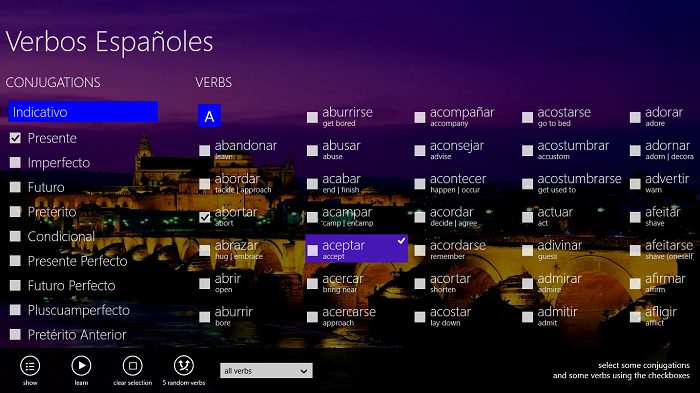 Learn the conjugations of hundreds of Spanish Verbs.
Use settings charm to choose which translation is shown, English, French, or German.
Simply select some conjugations and some verbs on the Start screen and off you go.
The search scans all conjugations of all verbs - very handy when you read a book and do not know what that means, for example, "hizo" (hacer, Pretérito, 3rd person singular). This you can't find in any dictionary.
The App works completely offline.
Features
Look up all conjugations of hundreds of verbs
Train all these conjugations with question and answers
Translations are provided in English, French, and German
Search covers all conjugations, you will find any form of any verb
Set filters to only see the irregular or important verbs
Define if accents should be considered while checking your answers
Calculates how many percent of the questions you answered correctly
Share the conjugation of a verb to another App using Charms